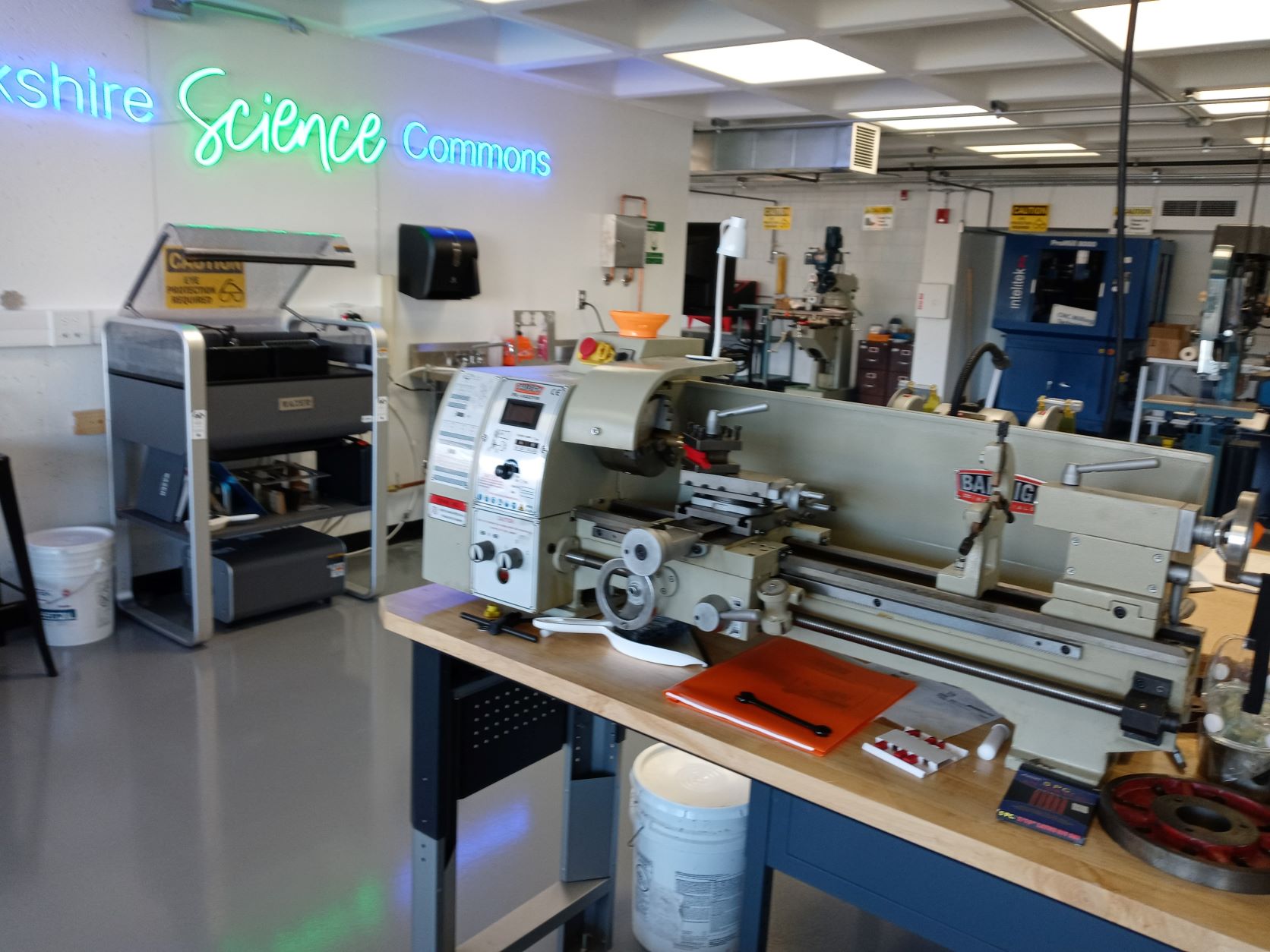 The Berkshire Science Commons is a crossroads for science on campus and for the communities we serve. The equipment and space of the Science Commons is a place where scientists and learners can come together to explore, create, and research together.
Equipment Reservations
Work spaces within the Science Commons can be reserved for projects whether they are class assignments, group efforts, or personal design projects. Reservations are recommended to avoid a work space being occupied when you arrive to use it. All users must be certified for use of a machine before they can safely use it.
Spaces in the Science Commons
The Berkshire Science Commons is divided into three spaces, each of which can be reserved as a whole for classes and demonstrations.
The first area accessible from the north door, the entrance most likely to be used by BCC personnel and students, is the Seminar Space. This space has modular tables, room for studying, AV capabilities, and a small hospitality area for hosting meetings.
In the middle is the Technology Space, a working area with the majority of the Science Commons's machines and tools. This is a busy area with plenty of creative and technical opportunities.
The third bay is the Discovery Lab, a space for citizen science projects and other projects with chemical or biological focuses. Like the Technology Space, this is a modular space that can be reconfigured as needed

Tools We Have
The Berkshire Science Commons has the following equipment ready for use in your science and engineering project!
Computer Numerical Control
Automated tools used with computer-assisted design.

Woodworking and Metalworking
Manual machines for cutting and drilling different materials.

Machine Finishing
Tools for finishing projects and removing burrs and smoothing surfaces.

Robotics and Virtual Reality
For now, only available to BCC community.

DJI Mavic Drone
Meta Quest 2 goggles