November 13, 2015
Thomas O'Connell knew the important role a community college would play in Berkshire County and beyond even before it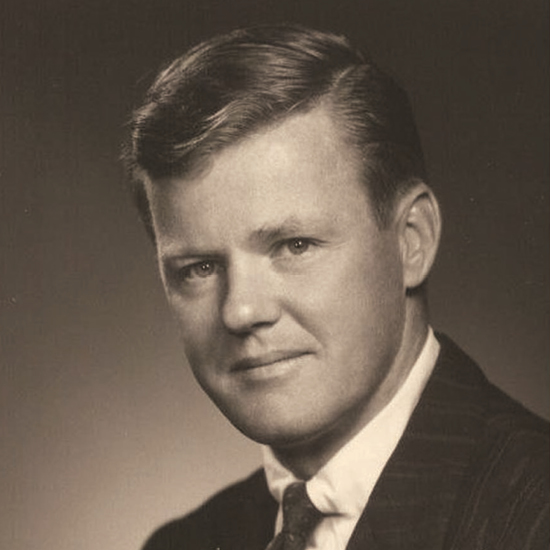 existed. O'Connell, the founding president of Berkshire Community College (BCC), passed away last month in Seattle at the age of 90. The BCC community, including faculty who worked with O'Connell, as well as President Ellen Kennedy who spent time in the College archive researching President O'Connell prior to accepting the presidency, remember him as a determined leader who was revered by students, faculty, staff and others across the Commonwealth.
"President O'Connell was dedicated to education," said BCC President Ellen Kennedy. "He led the effort to develop a strong liberal arts curriculum and insisted on out-of-classroom learning that is reflected in the FORUM Program that exists today at BCC. His legacy is palpable on the campus and we are forever thankful to him for his dedication to education and scholarship."
The founding of BCC, the first state supported community college in Massachusetts, was championed by then Gov. Foster Furcolo. Tom Wojtkowski, 89, a state representative at the time, had filed legislation to get a college in Pittsfield. He remembers O'Connell's passion for education. "He was on fire about the idea of a community college," he reflected. "He was a dreamer, a worker. He had a very bright personality."
BCC's opening day, which took place on Sept. 15, 1960, had been delayed several days because of a hurricane that impacted New England. More than 400 people, including BCC's first students, gathered to celebrate the institution's inaugural convocation at the College's original location at a former high school on Second Street in downtown Pittsfield.
Following the ceremony O'Connell was sworn in. Dr. Edward Russell, a member of the Massachusetts Board of Regional Community Colleges said, "Last year you (O'Connell) were engaged by the Massachusetts Board of Regional Community Colleges, with the charge to usher into academic life the first community college, building on the inspired plans of those who had laid the foundations for you. This you accomplished with the fine expertise of a seasoned administrator, with the sensitivity of an imaginative soul committed to the finest spiritual values of our culture, and with the sure-footed courage of a servant of the Commonwealth in the bold execution of a great plan."
O'Connell expressed his sentiment for the new college in a newspaper article. "An institution of higher education must have hope for a better world," he said.
BCC Professor Emeritus of Philosophy Donald Lathrop remembers O'Connell as being very energetic. "I recall him traveling around the area promoting the College," remembers Lathrop. "Given that it was brand new, that was quite an undertaking."
According to BCC records, President O'Connell was proud of being able to continue teaching literature and drama while also serving as its leader. He was closely involved with theatrical productions. He regularly taught a class called "The President's Hour," which introduced students to the humanities, arts and public affairs.
BCC Professor Emeritus of Theatre Arts Robert Boland, who participated in many plays with O'Connell, remembers him as a dedicated leader. "Tom had great visions of what a community college could be and he had the determination to make it happen. He was always capable of seeing his vision realized."
Vice President of Community Education & Workforce Development William Mulholland was a student at BCC in 1965. His father, BCC Professor Emeritus Mitchell Mulholland, who passed away in 1996, taught at the college at the time and would sometimes host social gatherings for faculty,
"I remember he would come to our house," said Mulholland. "What was so amazing about Tom was that he would zero in on a younger person and engage them in conversation. And, if you saw him a year later, he would remember your name and the exact conversation you had. It was absolutely unbelievable."
O'Connell spearheaded the creation of a new and modern campus on West Street in Pittsfield that opened in January 1972.
O'Connell served as president until 1977. He then served as president of Bellevue College (previously known as Bellevue Community College) in Washington State from 1977 to 1981.
In 2007, he donated a collection of papers to BCC including letters, photographs, newspaper clippings, his publications, speeches and teaching materials, as well as other items.
Donations may be made in his memory to the Berkshire Community College Foundation.