Kathleen McCormick and Peter Mirante have been appointed to Berkshire Community College's (BCC) Board of Trustees.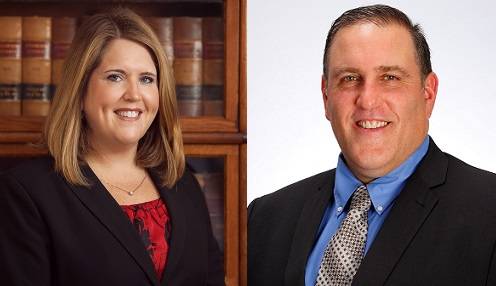 BCC's Board of Trustees Chair Darlene Rodowicz, who was recently reappointed as chair by Massachusetts Governor Charlie Baker said, "The new board members bring a wealth of knowledge from their respective roles in the community. We are happy to have them join the BCC Board of Trustees as we continue to advance the mission of the College."
Kathleen McCormick
McCormick is a partner with McCormick, Murtagh & Marcus, a law firm in Great Barrington, Mass. She joined the firm in 2004 and was named partner in 2009. Her focus is on residential and commercial real estate, land use and permitting, construction law, business law and estate planning. She previously clerked for First Justice David Kopleman in the Norfolk County Probate and Family Court and later served as an associate with the litigation firm of Herlihy, Thursby & Herlihy in Boston. She has worked for well-known companies such as the Boston Celtics, The Jane Blalock Company and Reebok International.
She is dedicated to enriching the lives of disadvantaged youth and her local community and is an active community member serving on boards of numerous charitable organizations.
She holds a Juris Doctor degree from Suffolk University Law School, a bachelor's degree from Boston College and is a graduate of Monument Mountain Regional High School in Great Barrington, Mass. She is a member of the Massachusetts Bar Association, the Berkshire County Bar Association and the Real Estate Bar Association of Massachusetts.
She resides in Great Barrington.
Peter Mirante
Mirante, who has worked in the banking industry for more than 20 years, is senior vice president of Branch Administration at Greylock Federal Credit Union in Pittsfield, Mass. He joined Greylock in 1998 and has served in numerous management positions.
Prior to joining Greylock, he worked for Patten Corporation and then Berkshire Bank. Mirante holds a bachelor's degree in Business Administration from the former North Adams State College.
A resident of North Adams, he has a long history of community service. He currently serves on the boards of the Northern Berkshire United Way, Berkshire Family & Individual Resources, Berkshire Compact for Education and North Adams Parks & Recreation.