May 12, 2016
Two Berkshire Community College (BCC) students were honored by the Massachusetts Community Colleges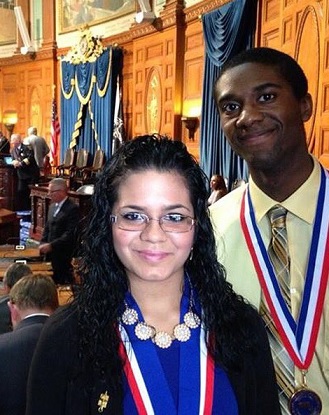 Executive Office (MCCEO) at a ceremony at the Massachusetts State House on May 11. Gladys Garcia-Rijos and Tyrone Keels were among a small group of scholars honored as the highest academic achievers of the community colleges system and were presented with medallions and certificates for being named to Phi Theta Kappa's All-Massachusetts Academic Team.
Every year, MCCEO hosts this event at the State House in Boston to showcase the best and brightest of the 15 college system. The event is co-sponsored by Phi Theta Kappa, the international honor society for community colleges, the Coca-Cola Foundation and MCCEO. Massachusetts Secretary of Education James Peyser, Governor Charlie Baker's top education advisor and member of the Executive Cabinet, provided keynote remarks.
"This truly is one of my favorite events each year. It is an honor to be able to recognize students with such outstanding academic achievement and service in front of their presidents, families, and legislators," said Executive Officer of MCCEO Bill Hart.
Phi Theta Kappa has recognized and encouraged scholarship among community college students for 97 years while promoting the academic integrity of the associate degree program. Students with grade point averages of 3.5 or higher are invited to join Phi Theta Kappa.