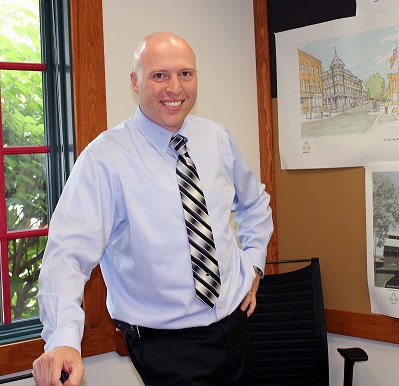 October 23, 2015
Jeromy Richardson, Class of 2000
Jeromy Richardson was a straight A student. During his first semester at BCC in the Engineering Program, he took Calculus I and received a C. The disappointment he felt in himself drove him to repeat the class. He earned a B.
His unwavering desire to succeed continues today.
Richardson was born in North Adams and grew up in Adams. His childhood wasn't easy and he was on his own at a very young age. He attended numerous schools during his K-12 years, but managed to continue to perform well academically. He graduated from McCann Technical High School in 1997 and enrolled at BCC.
He worked part-time as a salesperson at Sears and paid for his own college tuition in full. He earned his associate degree in Engineering in 2000 and soon after joined a local engineering firm in Pittsfield as an entry level engineer.
Despite having three young children with his wife, Christy, he spent hundreds of hours, mostly in the middle of the night, studying for professional exams. "I would help put the kids to bed and then would hunker down and study. I did this for months and years on end," he explained.
He passed his Fundamentals of Engineering Exam in 2012. He later passed his Professional Engineering exam in 2013 to become registered as a Professional Civil Engineer for the Commonwealth of Massachusetts with a focus on the structural and construction discipline.
In 2014, he joined edm Services, a multidisciplinary architectural and engineering firm with offices in Pittsfield, Chicopee, Albany, N.Y. and Unionville, Conn., as a senior civil engineer and project manager. In addition, he owns Max Engineering & Design, for which he provides services to residential customers and small businesses. He recently obtained licenses in Vermont and Connecticut.
Richardson's work runs the gamut from large commercial projects to residential customers and small commercial entities.
His work at edm has led him back to BCC, where he has been involved with project management and engineering services at the site of a proposed community turf field.
"My education at BCC was invaluable. It's really the only formal education I had besides my work experience. Working on the turf field project has provided me with an amazing opportunity to be part of the local community and allow me to reestablish my roots with the school that was the foundation for my journey."
Despite working seven days a week, the devoted father to two boys and a girl, ages three, five and seven, coaches soccer and attends swim and gymnastics lessons. When asked how he keeps up with his relentlessly busy professional and personal schedule, he quickly replies, "I want to be a good example for my kids. That's my plan."
His hard work is paying off. In the early fall of 2015, he was named a partner at edm Services.