April 27, 2016
Berkshire Community College (BCC) Professor Emeritus of Theatre Arts Robert Boland passed away on Mon., April 25 at the age of 90 at his home in Pittsfield. A beloved member of the BCC community and arts and theatre groups in the Berkshires and beyond, Boland's passing has generated an outpouring of memories, tributes and thanks from those who had the chance to perform, learn or work with him.
Born in 1925 in Philadelphia, Penn., he later moved to the Berkshires with his family. Boland served in the United States Air Force for just over two years before earning a BFA from the University of Massachusetts and an MFA from Boston University. He later held a teaching fellowship at Smith and a graduate assistantship at Boston University.

Prior to joining BCC on a part-time basis in 1960, he was a supervisor of art in secondary schools of Pittsfield. He was appointed a full-time professor of Fine Arts in 1960. During his tenure, he served as chairperson of the Fine Arts Department for many years and taught such courses as History of Art, Stagecraft, Costume Design, among others.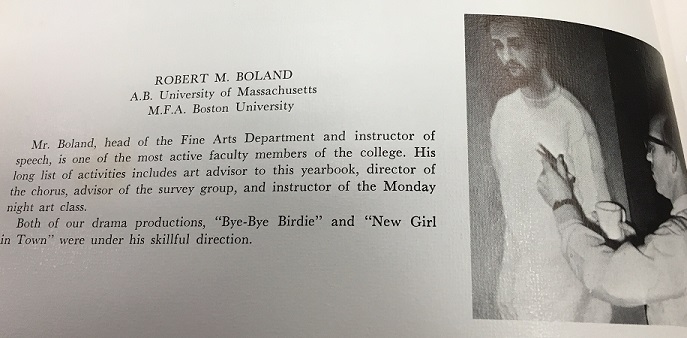 Boland, participated in many plays with BCC's founding President Thomas O'Connell.
His stage productions included a wide variety of dramatic and musical productions such as Chicago, Guys and Dolls, Camelot, Fiddler on the Roof and My Fair Lady, among dozens (or say many) others.
Dr. Ellen Shanahan, BCC's chair of the Fine and Performing Arts Department and a music professor, said, "Bob was an amazing presence at BCC. While he was always known for theatre classes and wonderful productions of both straight plays and musicals, his best remembered class had to have been his art history class. The room was always packed. It seemed, too, that everyone who worked at BCC had either taken or sat in on that class at some point. When I run into people in the community, no matter what they majored in or what they're doing now, if they went to BCC through 1988, they almost inevitably tell me they took art history with Bob and it changed their lives."
He retired at the end of the 1987-88 academic year, but remained involved with the institution and the BCC Players. BCC's theatre in the Koussevitzky Arts Center was named in his honor.
Boland was active in the local arts community including Pittsfield's Town Players. He was one of the leaders in the long-term effort to restore the historic Colonial Theatre in downtown Pittsfield, which reopened in 2006.