June 1, 2016
Berkshire Community College (BCC) is pleased to announce that Laura Forero has been named the 2016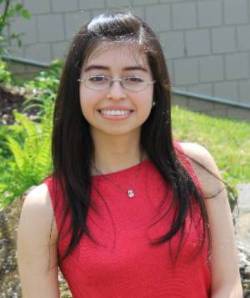 valedictorian and will provide remarks at the institution's 56th Commencement on Fri., June 3 at Tanglewood in Lenox, Mass.
A native of Colombia, Forero moved to Lee, Mass. with her parents when she was 13. Prior to moving to the Berkshires, she lived in Sydney, Australia and London, England.
Fluent in English and Spanish, she graduated from Lee High School with High Honors in 2014. While at BCC, the Business Administration major has been an active member of the Multicultural Student Services Organization and the Student Government Association. She is a member of Phi Theta Kappa, an honor society for two-year institutions.
"Laura represents what we admire and hope for in all of our students: hard work, a broad vision of the world, an understanding that education, taken seriously, is the best way to live a full life and help others do the same," states Dr. Frances Feinerman, BCC's vice president for academic affairs and chair of the selection committee.
"I feel honored to be this year's valedictorian because it's a recognition of my efforts," said Forero. "One of my favorite quotes is by an anonymous writer. It reads, 'The road to success comes through hard work, determination and sacrifice.' This quote captures my thoughts and feelings about earning this distinction."
In addition to hard work, Forero credits her success to the support of her family, friends and the faculty and staff at BCC.
In 2015, she was a BCC Falconer Award recipient. At BCC's recent 42nd Awards Ceremony, she garnered the Edwin & Lola Jaffe Scholarship and the Thomas C. & Anne Everest Wojtkowski Scholarship.
She will attend the University of Massachusetts' Isenberg School of Management in the fall.
In her spare time, the 21-year-old listens to and watches Korean music and television shows as a means to learn the language. Her future aspirations include earning a master's degree and becoming a Certified Public Accountant.
She aims to continue her family's tradition of travel and exploration and hopes to visit South Korea, Japan and China. "There's so much to see in the world," she explained. "Everyone is different and that's the beauty of humanity."
The 2016 Commencement will begin at 4:30 p.m. State Senator Benjamin Downing will serve as the event's keynote speaker. The event is open to the public. Tickets are not required.
For more commencement details click here. Twitter users are invited to follow and use #BCCGrads. #BCC2016