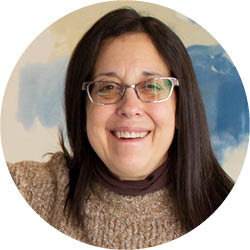 Staff Spotlight
Karen Carreras-Hubbard
Coordinator of Library Services
my

journey

Karen Carreras-Hubbard works in the BCC Library at the College — but she didn't start out anywhere close to being a librarian. In fact, Karen has her bachelor's and her master's degree in Cinema Studies from New York University and she spent a couple of decades in New York City before moving to Connecticut and then eventually to BCC.

Karen has had a multitude of other lives prior to working for the College, her journey includes working with characters in film like Spike Lee and David Bowie, to archiving videos of dances by choreographer Merce Cunningham.

"In fact, one of the first projects I worked on was the distribution of a rap movie for First Run Features called Wild Style, with Grandmaster Flash from 1983 and I have an autograph from Spike Lee on a poster."

While working for First Run Features she helped her cousin, Alwin Nikolais, who was a choreographer that Karen describes as "quite a character." He asked Karen to help him find a distributor for his choreographed videos — which at first proved daunting. While in the process she ran into folks from the Merce Cunningham Dance Foundation at the American Film Festival who loved the idea that she was knowledgeable about dance on film — and consequently hired Karen to work for them.

While with the Cunningham Dance Foundation, "I got to work for some crazy projects — like (one with) Nam June Paik, who was friends with Yoko Ono and was friends with John Cage, who I studied about in College — he was sort of my hero."

During a live simulcast taping of "Wrap around the World," a piece done by Nam June Paik, Karen met David Bowie. She exclaimed she was "trying so hard to be cool — I thought the world of David Bowie, I thought he was really wonderful!"

Shortly after this event, Karen was promoted to Assistant Director of Development for the Cunningham Dance Foundation. In addition to the usual fundraising and development roles, she managed the "music" programming for the 1989 "Celebrate Cage" gala benefit. Held at the Pierre Hotel, the program included John Cage's Rozart Mix which entails playing as many audio tape loops as there are keys in a piano, sometimes played simultaneously, and ordered by chance mechanisms, a composition technique used by Cage. Karen wound up collecting audio tape loop contributions from the likes of Bobby Short, Lou Reed and Yoko Ono.

Throughout all of this work, Karen found that she enjoyed archival work — so she decided to head back to school to get another master's degree in Library Science at Southern Connecticut State University.

"I had John (Cage's) rolodex, and I figured, I know what I want to do, I want to manage people's archives."

After marrying her professor who went on to work as the Director of Pfizer's Library she had her daughter, Sarah, whose professional music career benefited greatly from the teachings of BCC instructors Jeff Link and Ellen Shanahan. Before coming to BCC, Karen was the Library Director at Deep River Public Library and at St. Thomas Seminary in Bloomfield Connecticut where she worked to preserve 500 year old books and manuscripts.

"And during my time there, I automated the whole Library," Karen adds.

In 2001, a job opened at the Jonathan Edwards Library here on campus and after taking a drive up to the Berkshires, Karen realized she loved Berkshire Community College — and she landed the job in August of 2001.

Three weeks later, 9-11 happened. "I had spent a lifetime in New York," Karen says, "and on 9-11, I couldn't reach friends, it was absolutely horrifying. I wouldn't return to New York for many years after that event."

During her time at BCC, Karen brought presidential hopeful Ralph Nader to campus and was eventually able to use her Development skills to help the College secure a grant for the 2016 "Latino Americans: 500 Years of History" grant and bring Barack Obama's Inaugural Poet, Richard Blanco to speak to the campus community.

"I'm half Cuban/Catalonian myself, and having this lecture series underwritten by the National Endowment for the Humanities and the American Library Association was great — it was also great having someone like Richard Felver as my boss who totally supported me in doing this."

As a librarian, one of Karen's passions is information literacy and she promotes this throughout the BCC Library.
"The wonderful thing about community colleges is that people come from all various backgrounds and it's a great democratizing place to people. People make their futures here — their new lives begin here — and information is so important to that. It's not just writing a research paper, it's being informed enough to write an informed research paper that one is going to do well in and one will learn from — it's about the process, and information literacy is so important to that."
To that end, Karen teaches Information Literacy classes and has brought in many new databases and new teaching tools for faculty. "Our business is information, and information is what keeps democracy going."
Karen's mission is to make information as accessible as possible. Through her role at BCC, she has seen students succeed when they have the access to information and the gumption to improve their lives through the community college system. She marvels at the landscaping student she knew who, while in her thirties, went to BCC and transferred to Yale and now going for her PhD in medical ethics. "Success takes many forms," Karen adds.
Throughout her decade's long journey, Karen is keen on ensuring she finds opportunities through the work at the Library to help students succeed, and she offers the following advice for her colleagues:
"It's important to remember that when you're talking to a student, you're dealing with a real person. They are not a number. They may not know as much as you do, but they are equal to you — that's the best advice I can give."