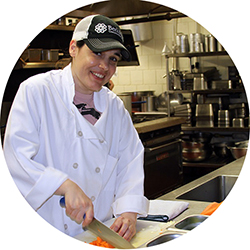 Staff Spotlight
Katie Hickey
Assistant Director of Food Services
my

creativity

If you grab a bite to eat in BCC's Cafeteria, chances are you'll see Katie Hickey working hard in the kitchen.

Born and raised in the Berkshires, Katie Hickey has always loved cooking.

After going to school and working in Denver, she moved back home to the Berkshires to be closer to her family. She joined Canyon Ranch as a line cook and was later promoted to Chef de Partie. She coordinated a dinner every week called the Taste of the Berkshires which highlighted local farms and purveyors.

She eventually worked in the Demo kitchen where she taught and lectured on healthy cuisine as well as how to get children to focus on nutrition and make healthier food choices and even taught one-on-one classes to people with specific dietary needs and restrictions.

After working at Canyon Ranch for nearly 10 years, Hickey joined BCC in September of 2013 as Assistant Food Service Director.
I really wanted back into a kitchen where I could use my creativity a little more freely.
One of Hickey's passions is cooking healthy and promoting healthy eating. She aims to utilize healthy cooking techniques to cut fat and calories without sacrificing the flavor.
Hickey attended St. Michael's College in Winooski, VT, and earned a degree from the Art Institute of Colorado in Denver.