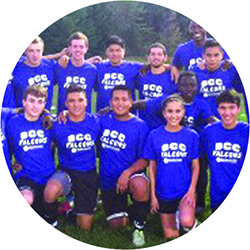 Campus Life Spotlight
Club Sports
Berkshire Community College has several club sports teams including: cross country running, basketball and soccer.
According to Lauren Pellegrino, BCC's director of recreational services, the college introduced intramural sports in 2013 as part of the institution's wellness initiative. Since that time, the intramural teams have evolved into club teams.
"Wellness and physical activity are a direct link to student academic success. These types of offerings help to create a fun college experience and I'm really pleased with the student interest," said Pellegrino.
In fall 2014, BCC joined the newly formed Southern New England Club Basketball League (SNECBL), which consists of ten teams that are separated into two divisions. The BCC Falcons, which features players from throughout Berkshire County, falls in the East Division along with American International College, Goodwin College, Yale University and Assumption College. The West Division includes: Boston College, Brown University, Harvard University, Providence College and UMass Lowell.
BCC has a rich history of athletics and intramurals. For many decades, both a basketball and soccer team existed and were members of the National Junior College Athletic Association Conference. In the early 1970s, the soccer team performed well and even traveled to Florida to compete.
Several years of successful basketball intramurals were held at BCC throughout the 1990s into the early 2000s.
BCC President Ellen Kennedy said, "The reinvigoration of sports at BCC is something very exciting and beneficial to our students. Sports involvement enhances the overall college experience while building school spirit."
In addition to traditional club sports, BCC also holds hikes and snowshoeing excursions that are open to students, faculty, staff and friends.
BCC's Paterson Field House offers a wide variety of opportunities for both students and the public (for a nominal membership fee) including: a basketball court, soccer fields, a 5K cross country course, a fitness center, outdoor swimming pools and tennis courts. Lockers are available for students (students must supply their own locks).
For general information, membership details, or to sign up for Club Sports, call
413-236-1661 or 413-236-1670 or email Lauren Pellegrino at lpellegr@berkshirecc.edu. BCC students may also sign up for one of the teams at the front desk at Paterson Field House.