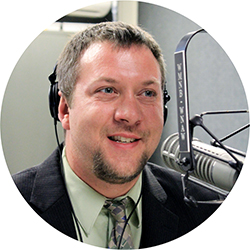 Student Spotlight
Bob Heck
Business Administration
my

Ambition

You may not know his face, but chances are you know his voice.

Bob Heck has graced Berkshire County's airwaves for more than 10 years. A DJ, entertainer, businessman and entrepreneur, and he recently added another title to his roster of work — Berkshire Community College student.

The Boston-area native began his career as a board operator and weekend air talent for Vox Communications in Pittsfield after earning a certificate from the Connecticut School of Broadcasting. He later worked his way up to the morning show host, a position he held for seven years. While his main job was being an on-air personality, he also handled traffic and billing, accounts receivable for three stations, and worked with clients and sales staff to produce commercials.

He later worked briefly in online advertising sales at iBerkshires and took over the reins of WBRK's morning program, "Bob Heck in the Morning." The popular show featured music, contests and trivia questions that sometimes stumped callers.

In 2014, he was named general manager of WNAW in North Adams, where he's responsible for sales and programming.

The 35-year-old is also a successful entrepreneur. Since 2009, he has run Bob Heck Entertainment, an entertainment business and DJ company that services Berkshire County and Western Massachusetts. He and his team have worked hundreds of area weddings and events.

Despite his success, Heck has long thought about earning a college degree. "I've worked hard to get where I am," he explained.
Earning a degree is a professional aspiration and it's important for me to show my daughters the value of a college education.
He enrolled in Business Administration at BCC in fall 2015 and registered for online classes. "I'm taking nine credits. Being able to take some online classes is convenient. I'm targeting two years to earn my associate degree," he said.
He plans to pursue a bachelor's degree at Massachusetts College of Liberal Arts via the institution's Fast Track degree program.
Heck resides in Pittsfield with his wife, Jennifer, and his girls, Kendall and Ashley. In his free time he enjoys watching sports and is an avid golfer.