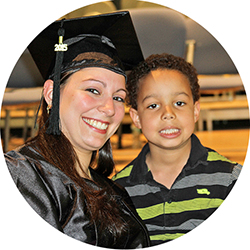 Student Spotlight
Tonya Pupo
Associate Degree in Nursing
my

Challenge

Tonya Pupo's road to earning an associate degree was long and full of challenges.

The Hinsdale native dropped out of high school and eventually earned her GED (now known as HiSet). She gave birth to her son, Jayvon, at the age of 18.

She tried a few classes at BCC in 2009 fall semester and didn't do well. She tried again in 2013 – failing three online classes.

She refused to give up. In, 2014 spring semester, she came back to BCC. Her new strategy was sit in the front of the class and work with a "strong team" of students. She retook the classes she failed and got three A's.

Pupo, a single mother and Pittsfield resident, was part of BCC's TRIO Program (Talent, Resources, Initiative, Opportunity), a federally funded program that provides free support services to eligible students.

She took 21 credits this past spring semester while juggling working full-time between two jobs and raising her son.

"I finally realized that in order for me to give my son a better life, I needed to better myself first."

"Seeing my son watch me graduate was one of the best feelings I've ever had. Hearing him yell 'go mommy!' made every struggle, every late night or sleepless night, and every early morning commute worth every second."

Each spring BCC holds a special ceremony for the recipients of the Falconer Award, which recognizes outstanding service and/or academic study in their field of study. Professor Eric Gauger and Professor Abu Selimuddin recommended Pupo to receive the Falconer Award for Business Careers.

"Tonya worked hard to balance school, work and family. While she made it all look easy, it took planning and determination for her to fulfill all her responsibilities. This is where Tonya truly shined," said Christine DeGregorio, TRIO coordinator.

She also will be working in BCC's Tutoring Center (tutoring others in the Accounting class she had previously failed).

She earned her associate's degree in May.