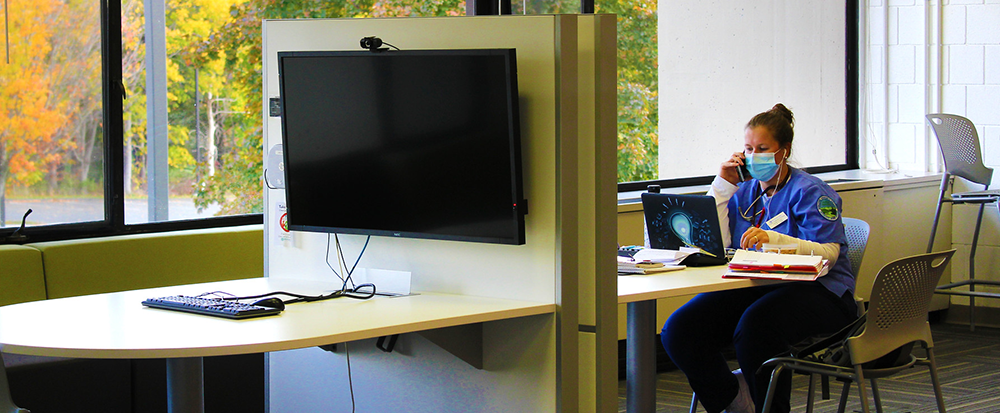 Current Status
The MyBCC Portal is being updated to serve you better.
We will continue to keep you updated as work progresses.
The Information Technology department at BCC ensures that the College's computer hardware, software, educational technology, network, and data assets are available, effective and secure.
IT Department roles include:
Deploying new technology to solve problems and meet College needs
Maintaining existing technology implementations
Establishing user accounts, including access to email and cloud storage, for students, faculty and staff
Administering College networks and systems on an ongoing basis, including coordinating sustainability expansions
Providing appropriate access to, and rigorous security for, College information databases
Stay Connected!

High-speed wifi is available on campus for all students to use. You don't even have to leave your car! Wifi is available in some of the campus parking lots, as well as inside all campus buildings. We ask that students fill out a Campus Access Request Form if they're coming indoors, but you can take advantage of the wifi from outside without needing a form.
BCC Student Technology Support
Email: ctenczar@berkshirecc.edu
Phone: 413–236–2165
BCC IT Help Desk
Email: helpdesk@berkshirecc.edu
Phone: 413-236-3004, or ext. 3004 on campus
NOTE: Phone Support is currently limited due to the recent public health emergency

Monday – Friday: 8 AM – 4 PM
Phone: 413-236-2165
Monday – Thursday: 4 PM – 7 PM
(when evening classes are in session)
Phone: 413-499-4660, ext. 6501
Helpful Links
Status Archive
All BCC students are

required

to change their BCC password by

April 1, 2021.

Beginning on April 1 at 4pm any student who has not updated their password will be locked out of their BCC account until a password change is completed. Click here for instructions and/or help with changing your BCC password.

If you have already updated your password within the past several weeks then no further action is necessary.

February 2, 2021 4:26 p.m.:

While we continue to work as hard as ever to restore the computer services, the pace at which we hit benchmarks that are noticeable to our campus as whole has slowed. We are therefore going to update you once a day. We will obviously make exceptions to this if the situation warrants. It is important to us that we keep you informed of our progress as best we can so that we can maintain the trust of the community.

We currently have one change in the status of BCC's computer systems to report.

The BCC Apply Online app is back up and functional.

February 1, 2021, 9:33 a.m.:

It was a long weekend but we can report that CROA is back up and operational.

While we have prioritized the restoration of services used in the teaching and support of our students, the portal currently remains down, and therefore so does WebAdvisor.

As we mentioned in our Friday morning update, students who had not logged in to MyBCC prior to last Tuesday will have problems accessing Moodle and their BCC email accounts. Please have them email the Help Desk. We need to make a slight adjustment to their account.

Our outside contractors start today. They will not only help us recover but also provide suggestions so that we may better serve you in the future.

We will continue to keep you updated. And we are again sorry for the frustration and inconvenience you are all experiencing.

January 29, 2021, 8:16 a.m.:

The MyBCC portal is still down. Please use the following direct links to access Moodle or your BCC email:

Moodle: https://moodle.berkshirecc.edu - You will log in with your BCC username ("s" + "your student ID number"

without the @berkshirecc.edu on the end") and password.
BCC Email: https://outlook.com/berkshirecc.edu - For this login with your complete email address ("s" + "your student ID number"

with the @berkshirecc.edu on the end") and password.

If a student had never logged in to MyBCC before this incident they won't be able access either email or Moodle with their initial password. We need to make a slight adjustment so that they can log in. Please email the Help Desk.

We will continue to keep you updated as work progresses.
Knowledge Base
The BCC IT Staff have created an online Knowledge Base to help answer common questions.
Online Help Request Form