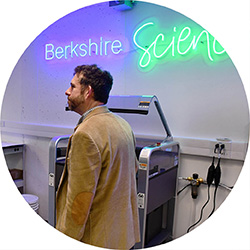 Campus Life Spotlight
Transforming BCC's Campus
Changes at BCC
my

changes

As Berkshire Community College carefully emerges from the pandemic, campus projects continue to improve the efficiency, aesthetics and safety of the College. Such projects include critical infrastructure upgrades, architectural improvements and replacement of windows, roofs, carpeting and more.

"We are very fortunate to have the support of the Commonwealth's Division of Capital Asset Management and Maintenance (DCAMM) for improvements to the campus," says Andrea Wadsworth, Vice President of Administration and finance/CFO. "It is exciting to watch the campus transform with each project." Wadsworth notes that the plan over the next four years is to improve ADA accessibility, replace roofs, enclose a walkway, enhance sustainability and more.

She adds:
Each improvement begins through a lens of, 'What is best for the students, the employees and the community?"
Chris DeGray, BCC Director of Facilities, says, "The projects currently in various phases at BCC align with our mission statement to provide students with the resources and services they need to be successful, to meet our academic standards and to achieve their personal and professional goals. We hope these important upgrades help provide an environment where students can maximize their potential while improving access to all areas of the campus."
Major projects include:
Susan B. Anthony (SBA) Lounge: Sponsored by SUCCESS Center funding, all carpeting in the lounge, security offices and General Bartlett Room has been abated, removed and replaced. A fresh coat of paint was applied on all lounge and hallway walls, as well as around the fireplace. New furniture has also been added to the space. In the General Bartlett Room, wallpaper was removed, and all walls and ceiling coffers were painted. A folding retractable wall was removed and is being updated with a retractable glass wall, with completion is expected in the upcoming weeks.
It is with great excitement that we re-energize the SBA Lounge into a space geared for student success. The upgrades will provide students a study area and private work space while offering a new, comfortable look. Keeping student success at the heart of the project, the new furniture and equipment not only make it comfortable to study and learn, but also provide accessibility for individuals and group sessions," says Celia Norcross, Dean of Students.
Jonathan Edwards Library HVAC: This project is currently in the study and design phase. Architects and engineers have been visiting campus and working with the facilities department to review existing building and mechanical documents and schematics in order to determine infrastructure needs. The projected completion date is June 2023.
Critical Infrastructure/Window Replacement/Paver Project: BCC has been working with design teams for several months on three major projects. First, critical infrastructure upgrades are being addressed, including electrical switchgear and drainage/sewage line replacement throughout campus. Second, windows in the Koussevitzky Arts Center and Jonathan Edwards Library buildings are in the process of being replaced, including the removal of caulking containing PCBs to comply with EPA requirements. As previously announced, the funds for this large-scale project came through Gov. Charlie Baker's new Critical Building Infrastructure Program, which awarded the College $10 million. Finally, pavers between the library and Boland Theater lobby are being remediated. These three projects are in various stages of planning, study and design. Significant work is scheduled to begin in early 2023, with project completions ranging from late 2023 to mid-2024. DCAMM will be overseeing the projects.
Paterson Field House Upgrades: An HVAC upgrade to the field house is in the construction stage. Contractors have been onsite conducting demolition and pouring concrete pads for the new equipment. Additional testing related to existing plumbing and infrastructure is underway. Work will be ongoing through the summer and fall, with completion scheduled by the end of 2022.
One Stop: The One Stop Student Success project, initiated through a $5.5 million grant provided by Gov. Baker's Capital Investment Plan for public higher education, aims to streamline BCC's admissions and enrollment process. One of the most important parts of the One Stop project is the Welcome Center, the gateway into newly consolidated offices of admissions, advising, new student registration, financial services and student records. The project continues to move at a steady pace. Roof replacement is complete and vendors are currently coordinating reinstallation of solar panels. Storefronts are being installed, with interior, ceiling and soffit framing underway. The design team is working with several departments: security for electronic access systems; IT for data line needs; procurement for furniture and signage; and facilities for planning switchgear upgrades. Critical work such as fire panel installation and sprinkler system adjustments is underway. With supply chain lead times continuing to be a disruption, the completion date has been adjusted to fall 2022. "Connecting pathways to the future home of our One Stop area this fall will be another future gain for the collaborative work of the Student Affairs departments, making it even easier for our students to join and grow in our BCC community," Dean Norcross says.
Berkshire Science Commons: The Berkshire Science Commons (BSC) is BCC's new, welcoming citizen science space. Interdisciplinary, accessible and inclusive, the BSC features manufacturing and engineering equipment, a discovery lab, an art gallery, makerspace, natural history exhibits and a home for BCC's STEM Starter Academy. With new flooring, fresh paint and state-of-the-art equipment, the BSC was recently completed and will have a formal opening in the fall.
The BSC is a true commons where all is shared, laying the foundation for science with, by and for the community," says Frank Schickor, Dean of STEM and Allied Health.