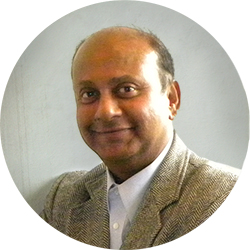 Faculty Spotlight
Abu Selimuddin
Business
my

Connection

Time at BCC: 31 years

Abu Selimuddin says that teaching is in his DNA.

Originally from Bangladesh, Selimuddin hails from a family that has always made education a priority and for more than 40 years his passion for teaching has never wavered.

Selimuddin's early years in teaching were spent at Dhaka University in Bangladesh, McMaster University in Canada, and Northeastern University in Boston. He joined BCC in 1983 as an assistant professor. Approximately six years later he joined the economics faculty.

Throughout his time at BCC, he has taught a wide variety of business courses such as Business Math, the Principles of Finance, International Business and World Economy, among many others. He thrives on classroom interaction. "I like classroom teaching. The face-to-face experience is a way to build mutual trust and faith with students."

In years past, Selimuddin channeled his knowledge of business, economics and industry into news publications. An accomplished author, his works have been published in more than 200 columns on business and economic issues of local, national and global importance. While he no longer actively writes articles, in the 1990's, he contributed pieces to such publications as The Berkshire Eagle, The Bennington Banner, the former North Adams Transcript, The Berkshire Trade and Commerce and Community College Weekly. He was also published in national publications including USA Today.

He estimates that in his 30+ years at BCC, he has taught thousands of students – including traditional, non-traditional and international students ranging in age from 18 to 60 and up. His students have even included BCC staff members.

Kevin Kennedy, BCC's director of food services, had Selimuddin as an instructor and vividly remembers him as being very detail oriented. "Much of what I do in my role at BCC is tied to economics and I definitely use some of tools I learned from Professor Selimuddin. I'm constantly tracking figures – whether it be the number of meals sold or how many people come to the cafeteria on a daily basis."

According to Selimuddin, the success of his students is the most fulfilling aspect of his work.
When my students finish at BCC and report back to me that they are doing well – it's fantastic! It's my best achievement in life.
He plans to be a familiar face at BCC for years to come. "I devoted my youth to BCC. As long as I have the energy and health I'll continue teaching."
Selimuddin resides in Lenox with his wife, Shameem. He enjoys traveling, cooking and watching tennis (particularly Rodger Federer).
Selimudden holds an MBA from Northeastern University, an A.B.D. in Economics from Northeastern University, a master's degree from McMaster University in Ontario and a bachelor's and a master's Degree from Dhaka University in Bangladesh.