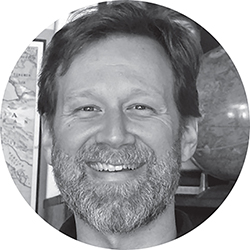 Faculty Spotlight
Christopher Laney
History
my

Passion

Christopher Laney, a professor of History, loves to get students excited about our past.

His passion for history runs deep and he's convinced that once a student gets a taste of times past they'll become just as interested. "I enjoy when a student says they hate history – and, at the end of the semester, they say they like it. History can tell us about who we are and where we're going. What's not to love?"

Laney joined BCC in 2004 after teaching at Lebette Community College in Parsons, Kansas. Originally from Kansas City, he was drawn to the beauty of the Berkshires, the cold winters, and the opportunity to continue teaching at a community college.

He currently teaches a variety of history courses both in the classroom and online including: World History, International Relations and World Geography.

Laney enjoys the diverse environment at BCC. He currently has students ranging in age from 17 to 80.

In addition to instructing, Laney currently serves on eight college committees including the BCC Foundation Scholarship Committee and the Steering Committee for the renovation of classrooms buildings Hawthorne and Melville. He is the founder of BCC Foundation's Little Bit O'Help Book Loan Program, a volunteer organization that raises funds to purchase books for students and allows accepted students to borrow text books for a semester.

In 2013, he was named an honoree for BCC's Acts of Kindness Scholarship, which recognizes individuals who embody a personal belief in service through their contributions and/or selfless acts in the community or college.

Laney is also a member of BCC's Green Team, a committee that works to reduce the college's carbon footprint and maintains sustainable practices. He leads BCC's RecycleMania efforts, a friendly competition and benchmarking tool for college and university recycling programs to promote waste reduction activities to their campus communities. At his home in Pittsfield, he and his wife, Kristen, an adjunct instructor at BCC, also aim to live green, composting and gardening as much as their small urban yard will allow.

Outside of BCC, Laney, a father of three, enjoys hiking, swimming and reading. A self-proclaimed "Dead Head," he has more than 400 hours of Grateful Dead recordings.