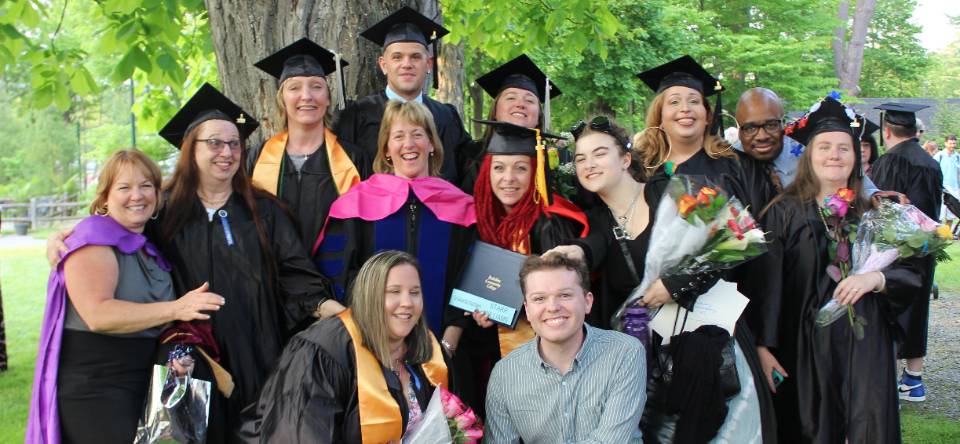 Human Services / Criminal Justice Info Session - May 18, 4:30 PM
Join the Admission staff and representatives from the new Hospitality program to learn more about how to apply.
OVERVIEW
Students acquire the skills, values, ethics and internship experiences necessary to transfer successfully into a Bachelor of Social Work program. BCC Human Services graduates regularly gain admission to excellent Bachelor of Social Work programs and perform outstanding work in these programs. Students who attend college full time are usually able to earn a BCC associate degree in two years and a Bachelor of Social Work degree in two additional years. A Masters in Social Work (MSW) degree, providing access to the Licensed Independent Clinical Social Worker (LICSW) level of social work practice, can be attained in one to one-and-one-half years after earning the Bachelor of Social Work degree.
Students who plan to transfer to a Bachelor of Social Work program should consult with the Human Services program advisor.
JOB GROWTH AND WAGES

Employment of social workers is projected to grow 16 percent from 2016 to 2026, much faster than for all occupations. The 2017 mean average income for social workers was $47,980.

POTENTIAL JOB TITLES

Case Worker (entry-level)
Program Assistant
Family Support Worker
Therapeutic Mentor
Employment Counselor
Residential Caseworker

TRANSFER SCHOOLS

Elms College
Westfield State University
Western New England University
Siena College
SUNY, Albany
College of St. Rose
and many more

LOCAL EMPLOYERS

Brien Center
Service Net
Christian Center
Berkshire County ARC
United Way
Berkshire Children and Families
Elizabeth Freeman Center
Elder Services
United Cerebral Palsy
The Key Program
SEMESTER 1


Intro to Community Resources
Intro to Psychology
Intro to Sociology
English Composition I
Intro to Student Success & Wellness


SEMESTER 2


Human Service Methods




Field Work Practicum I & Seminar I




Human Growth and Development




English Composition II




Intro to Interpersonal Communication

SEMESTER 3


Field Work Practicum II & Seminar II




Interviewing and Counseling




Mathematics 101




General Elective




General Elective



SEMESTER 4


Group Work




Biology with Lab




Racial and Ethnic Minorities




Specialized Elective




General Elective

SEMESTER 1


Intro to Community Resources
Intro to Student Success & Wellness

SEMESTER 2


Intro to Psychology
English Composition I



SEMESTER 3




Human Service Methods


Intro to Sociology

SEMESTER 4




Field Work Practicum I & Seminar I




Human Growth and Development

SEMESTER 5


Communication
English Composition II

SEMESTER 6


Field Work Practicum II & Seminar II
Interviewing & Counseling

SEMESTER 7


General Elective
Mathematics 101

SEMESTER 8


Biology (with Lab)
General Elective

SEMESTER 9


Group Work
Specialized Elective

SEMESTER 10


Racial & Ethnic Minorities
General Elective
| | |
| --- | --- |
| The knowledgeable and invested instructors plus the extremely close working relationships with local human service providers and closeness of the students are real strengths of the program. | |