July 30, 2015
Berkshire Community College (BCC) and the College of Our Lady of the Elms in Chicopee have signed a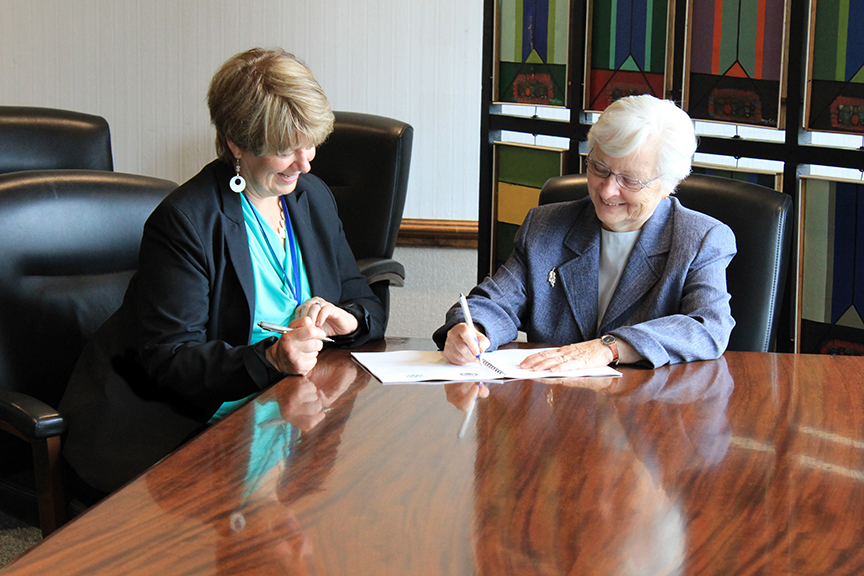 Memorandum of Understanding allowing qualified BCC human services graduates, as well as graduates with associates degrees from other accredited institutions, to complete Elms College's social work bachelor's degree program at BCC's main campus on West Street in Pittsfield.
BCC President Ellen Kennedy and Elms College President Mary Reap, IHM, Ph.D., originally signed an agreement regarding the off-campus program for social work in May 2013. Classes previously offered in Lee, Mass., will shift to BCC's main campus starting next month. Students will work with BCC advisors as they complete their associate's degrees at BCC and then with Elms advisors as they transition into the bachelor's degree completion programs.
"We are pleased to welcome Elms College to our Pittsfield campus," said President Kennedy. "We know that students are the most successful when they have the flexibility to balance studies with work and personal commitments. Having top-notch educators from Elms College at our campus offering weekend classes will most certainly benefit students interested in earning a bachelor's degree in social work close to home."
"Social work is a growing, vitally important field with expanding job opportunities for Western Massachusetts," said President Reap. "We are pleased to partner with Berkshire Community College to set students on the path to bachelor's degrees leading to rewarding careers, empowering them to change lives for the better in the Berkshire community," said President Reap.
In addition to social work, Elms will also offer two online degree-completion programs as part of the Memorandum of Understanding, including a bachelor's degree in speech language pathology assistant and a bachelor of science degree in healthcare management.
Classes taught by Elms College faculty will be held at BCC on Saturdays from 8:30 a.m. to 12:30 p.m. and 1 to 5 p.m. Students who complete coursework in 10 eight-week sessions over a 20-month period will be awarded a bachelor of science degree in social work. Two cohorts, consisting of new and returning students, will begin classes Aug. 29.
To qualify for transfer to Elms or enrollment into the off-campus program, BCC students must have earned an associate's degree and have a minimum grade-point average of 2.5.
The two institutions originally signed an articulation agreement for social work majors in 2004. The first off-campus social work cohort launched in August 2013 and graduated this past May.
BCC currently has approximately 50 transfer articulation agreements with colleges and universities throughout the country. Examples include: Clarkson University, Colorado State University, Union College, Rensselaer Polytechnic Institute, Russell Sage College, Southern Vermont College, the University at Albany, the College of Saint Rose and Worcester Polytechnic Institute.
BCC also has MassTransfer agreements with all Massachusetts state colleges and universities, including the University of Massachusetts at Amherst and Massachusetts College of Liberal Arts.
In addition to BCC, Elms College has a number off-campus agreements with institutions including: Greenfield Community College, Holyoke Community College, Mount Wachusett Community College, Quinsigamond Community College and Springfield Technical Community College – in dozens of programs, including early care and education, management and marketing, social work, nursing, accounting and psychology.
For more information about BCC's human services program, visit www.berkshirecc.edu/humanservices or contact Audrey Ringer at aringer@berkshirecc.edu.
For information about Elms College's social work program, contact Maureen Holland at hollandm@elms.edu. For information about Elms College's social work degree-completion program, contact Wanda Banks at banksw@elms.edu or 413-313-4287.