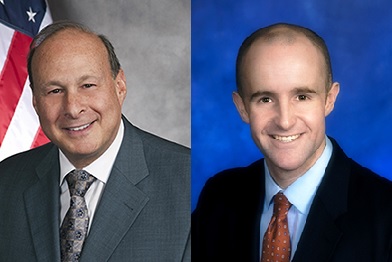 June 19, 2015
State Senator Benjamin B. Downing (D- Pittsfield) will 
host Senate President Stan Rosenberg (D- Amherst)
in the City of Pittsfield for a series of events on Wed.,
June 24.
---
 The President's first stop will be at Berkshire
Community College (BCC). The event will include a
tour of the College's Main Campus led by BCC
President Ellen Kennedy and will be followed by a
meeting with BCC administrators, faculty and staff. 
---
                                                                                            Senate President Stan Rosenberg and Senator Benjamin Downing
Senate President Rosenberg and staff
Senator Downing and staff
Ellen Kennedy, BCC President
BCC faculty and administrators
Mike MacDonald, Community Chair of the Turf Field Project
Berkshire County House Legislative Delegation
Pittsfield Mayor Dan Bianchi
North Adams Mayor Dick Alcombright
WHAT:      
A one-hour campus tour/briefing/question & answer period/site visit with President Ellen Kennedy
and senior staff to review how BCC has employed capital resources from the Higher Education Bond,
discuss the need for more capital dollars to address hardscape issues, highlight community partnerships,
TURF field project, energy work, etc.
WHERE:
BCC Campus, 1350 West Street, Pittsfield. The campus tour will begin at the front quad/circle by the flag
poles and will be followed by a briefing and Q&A in the General Bartlett Room located in the Susan B. Anthony
Student Center.
WHEN:
11:30 a.m. – 12:30 p.m.
INFO:
This event is open to the press. Contact BCC's Public Relations Manager Heidi Weber at
hweber@berkshirecc.edu or 413-236-2116.