March 22, 2016
Berkshire Community College (BCC) has announced the winners of the inaugural 40 Under Forty Awards. BCC, in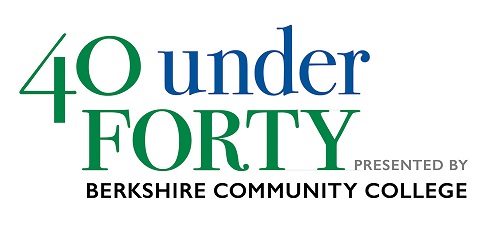 partnership with 1Berkshire and the Berkshire Eagle, created the local event to recognize outstanding young professionals who are excelling in their industries through their leadership roles.
"We were floored by the number of submissions," said Craig Smith, BCC's vice president for institutional advancement and executive director of the BCC Foundation. "The selection process was highly competitive. There's a dynamic group of young professionals here who strive to not only make their mark in the Berkshires, but to give back to our communities. We are pleased to honor these individuals and look forward to future 40 Under Forty events."
More than 200 nominations were received, representing over 175 different candidates.
The winners were selected by a committee of eight individuals from eight different organizations. Finalists were reviewed by a minimum of three judges. Only one award-winner was chosen from each business or organization in the case of multiple entries.
The winners include: Arsema Abegaz, Zogics; Jamal Ahamad, BerkshireWorks Career Center; Christina Barrett, Berkshire Community College; Brooke Bencivenga, Berkshire Health Systems;
Rick Bleser, St. Germain Investment Management; Michael Vincent Bushy, Hillcrest Educational Foundation; Jonathan Butler, Berkshire Chamber of Commerce and 1Berkshire; Michele Butler, David J. Tierney, Jr. Inc.; Will Conklin, Greenagers; Sharon Connors, KidZone; Jesse Cook-Dubin, Cohen Kinne Valicenti & Cook LLP; Jonathan Denmark, Coakley, Pierpan, Dolan & Collins Insurance Agency Inc.; Benjamin Downing, Massachusetts State Senate; Pastor Akilah Edgerton, Bart Charter Public School; Krystle Gallo, General Dynamics Mission Systems; Aleisha Gibbons, Berkshire Organics Market & Delivery; Nathan Girard, Adams Ale House and Greylock Realty; Erica Girgenti, Town of Adams - Council on Aging; Pamela R. Green, Smith Green & Gold, LLP; Adam Hinds, Northern Berkshire Community Coalition; Molly Hines, Onyx Specialty Papers; Kristine Hurley, Downtown Pittsfield Inc.; Casey Jones, DMD, Dr. Jay Wise, DDS & Dr. Casey Jones, DMD; John Krol, OneEighty Media; Benjamin Lamb, Williams College; Craig Langlois, Berkshire Museum; Gary Levante, Berkshire Bank; Paul Mark, Massachusetts House of Representatives; Roberta McCulloch-Dews, City of Pittsfield; Caitlin Pemble, Guardian Life Insurance; Rachael Plaine, Berkshire Yoga Dance & Fitness and The Berkshires For Sale; Jeromy Richardson, edm Services and MAX Engineering and Design; Paul Saldana, Diplacon Builders; Jenn Smith, Berkshire Eagle; Theresa (Tess) Sorrentino, Adams Community Bank; Darcie Sosa, Berkshire South Regional Community Center; Jonah Sykes, Berkshire United Way; Danielle Trumbull, Moments House; Pete White, Massachusetts Rehabilitation Commission and Heather Williams, Berkshire County Regional Employment Board Inc.
The sold out event, which will be held on Thurs., March 24, is a major fundraiser for BCC. Monies raised will support a variety of initiatives at the College.
Presenting sponsors of 40 Under Forty include: St. Germain Investment Management, General Dynamics Mission Systems, Guardian Life Insurance Company of America, MountainOne and Crane.
For a pdf of the 40 Under Forty supplement featuring the winners, visit www.berkshirecc.edu/40underforty.