September 21, 2016
Berkshire Community College (BCC) and Springfield College of Springfield, Mass., have entered into an academic agreement allowing qualified BCC Physical Fitness graduates to transfer to Springfield College's Applied Exercise Science Program with junior standing.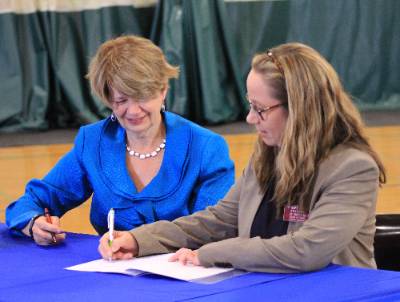 BCC is currently the only community college in the Commonwealth to have an articulation agreement with Springfield College for the Applied Exercise Science Program. The memorandum of understanding between the two institutions, originally signed in April 2016, is now in effect.
BCC President Ellen Kennedy said, "This agreement promotes degree completion and facilitates the transfer process, ensuring that BCC graduates enter Springfield College with junior standing. This important partnership is the result of the hard work of Sherry Scheer, who has energetically led BCC's Physical Fitness Program for the past 34 years. This agreement demonstrates not only the quality and rigor of the education our students receive – it shows they are extraordinarily well-prepared to successfully transition to one of the top programs in the country."
"Springfield College is very excited to collaborate with Berkshire Community College on this articulation agreement," stated Dr. Tracey Dexter Matthews, Springfield College's dean of the School of Health, Physical Education and Recreation. "Exercise Science is a growing and much needed field. In an era where obesity is on the rise from children to adults and our society is becoming more health-conscious, we will be preparing outstanding leaders in the field of Exercise Science to help individuals live healthier lifestyles. Students will be receiving quality educational experiences at two outstanding institutions. The relationship between us will allow for a seamless transition for students to continue their educational pursuits."
BCC students may transfer to part-time or full-time status in Springfield College's bachelor's degree program. Sixty out of 64 credits will transfer from BCC to Springfield College. To qualify, BCC students must have earned their associate's degree. The average GPA for admission to the Applied Exercise Science program is a 3.2.
BCC's Physical Fitness degree option was created in 2001. The program, which is endorsed by The American College of Sports Medicine and the American Council on Exercise (ACE), offers instruction in nutrition, muscular strength and aerobic conditioning, group exercise instruction and personal training. The program also explores the human body and its relationship to exercise and fitness and covers such topics as mind/body connection, injury prevention and sports psychology.
Graduates of the BCC program currently have a 100 percent employment rate working as group exercise instructors, personal trainers or fitness instructors at health and fitness facilities and community organizations. Additionally, the program provides students with the opportunity to achieve multiple ACE Certifications, nationally recognized credentials.
"An articulation agreement with Springfield College, an international leader in the field of Exercise Science is a testament to the strength and value of our program at BCC. This agreement magnifies the career opportunities for our students. For me, this is a professional dream come true," said Program Advisor for Physical Education/Fitness Sherry Scheer.
Springfield College, known internationally as a leader in the field of exercise science, was one of the first institutions in the United States to develop the applied exercise science major. The major emphasizes that physical activity is inextricably linked to good health, and focuses on preventing health problems. The curriculum has a strong science base, including courses in exercise physiology, exercise prescription for normal and special populations, measurement, nutrition and management.
The program is designed to assist students in their preparation for nationally recognized certifications, including those offered by the American College of Sports Medicine (ACSM), the National Strength and Conditioning Association (NSCA) and the YMCA.
Springfield College is ranked 27 in the first tier in the category of Best Regional Universities – North in the recently released 2017 U.S. News & World Report rankings. The College also is ranked 12 in Best Value Schools for Regional Universities – North. This is the first year the College has been listed in the Best Values category, which takes into account a college's academic quality and net cost of attendance.
BCC currently has 68 transfer articulation agreements with colleges and universities throughout the country. Examples include: Clarkson University, Colorado State University, Union College, Rensselaer Polytechnic Institute, Russell Sage College, Southern Vermont College, the University at Albany, Trinity College of Vermont and Worcester Polytechnic Institute. BCC also has MassTransfer agreements with all Massachusetts state colleges and universities including the University of Massachusetts at Amherst and the Massachusetts College of Liberal Arts.
For more information about BCC's Physical Fitness Program, contact Sherry Scheer at sscheer@berkshirecc.edu, and for information about Springfield College's Applied Exercise Science Program, contact, Dr. Elizabeth O'Neill at EONeill@springfieldcollege.edu.