February 26, 2016
Governor Charlie Baker and Lt. Governor Karyn Polito yesterday announced $9.3 million in workforce skills equipment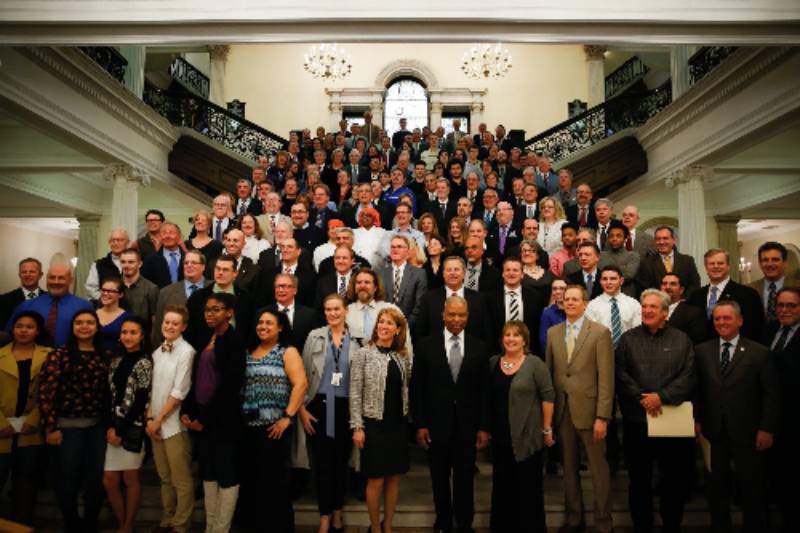 grants to 35 high schools, community colleges and vocational training providers across the Commonwealth for vocational-technical education and training equipment purchases that connect Massachusetts students and residents to economic opportunities in high-demand industries.

"Workforce skills education and training plays an enormous role in economic and personal development by helping residents acquire the skills they need to connect with promising careers," said Governor Baker. "These vocational-technical education equipment grants will help build stronger communities and a more competitive business environment that ensures more residents have the skills they need to succeed in and support the Commonwealth's economic future."

"These workforce development grants will build bridges between residents seeking careers to build a future on, and the employers who need a skilled workforce to grow the state's economy," said Lt. Governor Polito. "Today, too many good-paying jobs are going unfilled, because employers are struggling to find skilled employees. This investment in training equipment will enable high schools and community colleges across the Commonwealth to equip students with the skills they need to secure a bright future."

The Workforce Skills Capital Grant Program is a new initiative of the Governor's Workforce Skills Cabinet, which seeks to align education, workforce and economic development strategies across the state. Governor Baker tapped Labor and Workforce Development Secretary Ronald Walker II, Education Secretary James Peyser, and Housing and Economic Development Secretary Jay Ash to work together to develop policies to improve economic and job training opportunities for residents of the Commonwealth.

As part of the Workforce Skills Cabinet's efforts to align resources to better meet common goals, the Workforce Skills Cabinet consolidated two separate capital grant programs – the former Manufacturing Training Equipment grants (administered by the Executive Office of Housing and Economic Development) and the former Vocational Opportunity Challenge grants (administered by the Executive Office for Administration and Finance) – into one unified, integrated, and expanded workforce development capital grant program.

The inaugural round of the Workforce Skills Capital Grant program received 68 applications, requesting a total of $18 million in funding.

"We are leveraging our resources to take the public dollars that are available and funneling them into places that can provide the skills and job training that residents need for the jobs that are available," said Secretary Walker. "The goal is to have all our resources integrated around meeting the talent needs in a particular region."

"These grants will immediately transform the quality of vocational programs and cutting edge technological opportunities," said Secretary Peyser. "They will also enable deeper partnerships between vocational schools, community colleges, and employers."

"A competitive economy demands a competitive, highly skilled workforce," said Secretary Ash. "Through the Workforce Skills Cabinet's coordinated efforts to close the skills gap, we are equipping residents with the skills needed to fill the jobs of today, and tomorrow, and setting the stage for future economic growth.
Consistent with the Baker-Polito Administration's support for expanded workforce development opportunities, the Governor's recently filed economic development legislation requests an additional $75 million in capital authorization for additional training equipment grants that strengthen workforce skills, and create strong employment pipelines.
Berkshire Community College (BCC), Pittsfield - $465,119
BCC will upgrade and modernize its manufacturing and engineering program, utilizing new hydraulics, pneumatics, electrical controls, materials testing, CNC and 3D printing equipment to train students and adult learners for careers in advanced manufacturing, engineering, and biotechnology.
For more information regarding the 2016 Workforce Skills Capital Grant Program Winners, click here.