March 28, 2016
Four members of Berkshire Community College's (BCC) newly resurrected Club Wrestling program traveled to Springfield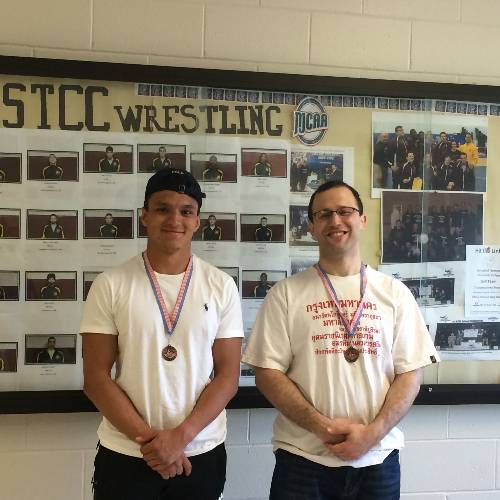 Technical Community College (STCC) on Sat., March 26 to participate in the USA Wrestling March Madness Mania open tournament.
The Wrestling Club, the newest addition to BCC's Club Sports program has been practicing twice a week for the past two months. Saturday marked the Club's first competition since forming.
In the 153 pound weight class, Travis Hilchie, formerly of Mount Greylock High School, racked up one win. In the 162 pound weight class, CJ Lillie, another former Mt. Greylock wrestler, also earned one win, before falling in the wrestle back bracket to his teammate, Sebastian Zapata, in double overtime.
Zapata, a former Monument Mountain High School wrestler, went 2 and 2 for the day, earning bronze at 162. Coach Shawn Green, who serves in dual roles as student coach and athlete, went 3 and 1 in the 174 pound weight class, earning the bronze medal in that class. Zapata and Green
Green's overtime loss was to NJCAA National qualifier, Nick Koury of STCC.
Following Saturday's tournament, Green offered the following observation, "First of all, I'm so proud to be a part of the renaissance of wrestling at Berkshire Community College. All the guys wrestled well and it was a fun day. We have some work to do on our conditioning."
Club Coach Mike Wynn stated, "I'm incredibly proud of these young men. They've been working hard and represented Berkshire Community College well on Saturday. It's exciting to be involved in bringing wrestling back to BCC and allowing these students to enjoy a complete college experience that includes both academics and athletics."
"The athletic department and entire college community is so excited about the rise of our new Club Wrestling team," said Lauren Pellegrino, BCC's director of recreational services. "As these results already show, they have so much promise. We can't wait for the next meet on May 7. We want to thank Coach Mike Wynn for all of his dedication in helping to make this possible. Go Falcons!"
The Club's next scheduled competition is Sat., May 7 at the Bay State Scramble Tournament at STCC.
The BCC Wrestling Club practices every Monday and Thursday from 4 to 6 p.m. at Berkshire Nautilus on Summer Street in Pittsfield.
For further information about BCC's Wrestling Club or other Club Sports, visit www.berkshirecc.edu/clubsports.