Berkshire Community College welcomes new Director of Information Technology, Coordinator of Academic Computing
Berkshire Community College (BCC) is excited to announce that Arlen Rauschkolb has joined the College as Director of Information Technology and Christian Tenczar has joined as the new Coordinator of Academic Computing.
Rauschkolb brings decades of experience in technology management for higher education, including community colleges. He also has a rich academic background with a B.A. in Anthropology, M.S. in Social and Philosophical Foundations, M.S. in Urban Affairs, and doctoral program in Urban Education.
Rauschkolb is actively involved with organizations that advance academic technology, where he has been a frequent presenter. He is a natural collaborator and a true believer in the special mission of community colleges. Rauschkolb and his family have vacationed in the Berkshires many times over the years, so they knows and enjoy the area.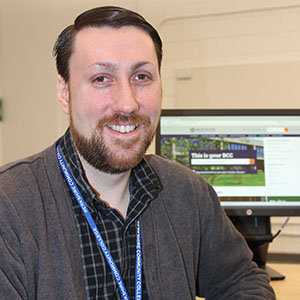 Tenczar is a native of Berkshire County who has over 15 years of experience in IT, most of which has been in higher education. He holds a Bachelor of Science degree in Information Systems from Marist College and has worked in various technical support roles at UMass Amherst, Smith College, Skidmore College, and, most recently, at Elder Services of Berkshire County. He has a wide range of experience - from training and developing student workers to developing and delivering workshops to creating help documentation to providing frontline support to students, faculty, and staff.
Tenczar will oversee the Academic Computer Lab, and will also be exploring new ways of providing technology support and training here at the College.