BCC Pinning Ceremony Recognizes Practical Nurse Graduates
Twenty-two graduates of the Practical Nurse certificate program at Berkshire Community College (BCC) were recognized June 14 during a Pinning Ceremony in the Robert Boland Theatre of the college's Koussevitzky Arts Center. Catherine Stechmann, RN, Staff Development Coordinator at Hillcrest Commons Skilled Nursing and Rehabilitation Facility, and Clinical Instructor, addressed the students.
The ceremony is a time-honored nursing school tradition, dating back before the turn of the twentieth century. Traditionally, nursing students have conducted an Honors or Pinning Ceremony to mark the passage of student nurse role to practice role. It is an emotional event that is shared with family, friends, faculty and others important to the students' education.

Graduates of the 10-month program are eligible to sit for the Licensed Practical Nurse (NCLEX-PN).
LPN Pinning Ceremony 2018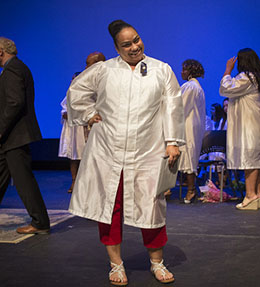 Canaan, CT: Isabel Cristina Castaneda-Monsalve

Cheshire: Chiara M. Paris, Arpita M. Patel

Dalton: Chelsea Suzanne Hand, Kayla D. Robinson

Lee: Aja J. Ostrander

North Adams: Kellie L. Berkeley

Pittsfield: Dorcas S. Archer, Vivian Arkilley Cobbold, Marie J. Blankson-Atté, Margaret M. Brown, Taleara M. Hillery, Chaquoya C. Johnson, Vanessa S. Johnson, Lynn M. Mandell, Annmarie B. Marby, Victoria Nyamekah, Sarah A. Pettit, Kelly N. Phipps, Jackie Rosario, Banchigize Chekol Tafet

Salem: Rodney Toussaint

Clinical Award: Lynn M. Mandell

Academic Award: Isabel Cristina Castaneda-Monsalve

Professionalism Award: Jackie Rosario