A project seven years in the making
Berkshire Community College (BCC) held a groundbreaking ceremony for the construction of the community turf field on Friday, July 20 at 10:00 a.m. behind the Paterson Field House.
Construction of this new turf field is currently underway, and is expected to be finished by Labor Day, 2018 – just in time for the Berkshire Kickoff Classic, a Pittsfield Soccer Club tournament.
"This has been a work in progress for several years as we've been trying to create a space for young athletes playing football, soccer and lacrosse," Michael MacDonald, community volunteer and Turf Field Committee leader, said. "When this is finally completed after Labor Day, it will be the first publicly available turf field in the county and will serve as a local Launchpad for young athletes – and we couldn't be more excited."
The Groundbreaking Ceremony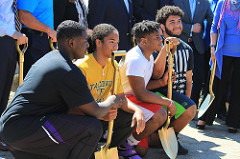 More than 50 donors, student athletes, coaches, state and city representatives, community partners, faculty, staff and architects showed up for the groundbreaking of the new Community Turf Field at BCC.
The turf field will serve as a community facility to be used by Berkshire County students, athletic teams and community organizations. Local teams in the Berkshires will now be able to use the field and host games that are compliant with the rules of the Massachusetts Interscholastic Athletic Association, which oversees high school sports. Without it, championship games that would otherwise be taking place in the county end up being played in other parts of the state, where there are turf fields available.
"BCC is proud to be able to support this community initiative and we are excited that we will be hosting the first community turf field in the county," Ellen Kennedy, President of BCC said. "We've been working with the community, listening to all sides, and making recommendations and adjustments to this project for years. We are finally in a place where the project can be realized while also ensuring the concerns raised in the past have been addressed."
In November 2014, the Commonwealth announced the release of $1.1 million in environmental investment for a community turf field to be located at Berkshire Community College's main campus. This funding, part of $2.2 billion environmental and energy bond bill, will mitigate previous unintentional damage to wetlands surrounding the athletic fields at BCC, while allowing for better drainage and the redirection of runoff to the vernal pools and wetlands.
"From the environmental impact side of this project, we feel confident now that our concerns have been addressed, "Bruce Winn, BCC environmental faculty member said. "They've taken all of concerns – for example about the vernal pool recharge or the aquifer issues – into consideration and this current project underway mitigates those environmental areas of concern."
At the request of the environmental studies faculty, Emily Stockman, of Stockman and Associates, an independent wetland consulting firm, was hired to work with the community turf group, BCC, and the Department of Environmental Protection to ensure that the construction of the turf field would not adversely impact any native habitats or wetlands, and would ensure issues around proper drainage and runoff would be addressed in the design of the field.
To date, the community turf field group in collaboration with BCC has nearly met its $3.1 million goal, thanks in part to funding from the state, the City of Pittsfield and numerous additional private donations and contributions. There is a remaining funding gap of around $100,000 left to complete the final stages of the project – including bleachers, press box and scoreboard.
Donors to the community turf field include: Feigenbaum Foundation, City of Pittsfield, Mill Town Capital, Berkshire Bank, Greylock Federal Credit Union, Berkshire Community College Foundation, The Jane & Jack Fitzpatrick Trust, Pittsfield Soccer Club, Berkshire Kickoff Classic, Pittsfield Cooperative Bank, Bianchi Barbarotta Scholarship, Lee Bank, Berkshire Sheriff's Office, Bill Belichick Foundation, Inc., EDM Services, MountainOne Bank, Onyx Specialty Papers, NBT Bank, and more than 20 more individual or corporate donors.